Two weeks ago, I started a completely new position at a new company: I'm now Developer Advocate (or to be more accurate, "Developer Relationships Manager") at a company called Exoscale that offers Cloud Computing resources.
| | |
| --- | --- |
| | There's nothing technical this week, but a lot about me. You're welcome to skip if that's not your cup of tea. Or read on if you'd like to know more about me. |
I've been doing working as a consultant for all my career up until now. In France, consulting in development doesn't mean you just give other advices and do nothing. It just means you're paid by a company, which has customers that needs your skills: in other countries, that would be called outsourcing.
When you're junior, I believe that's a pretty good way to learn. Customers come and go, and one is exposed to a variety of business domains, of processes, of people, of technologies, etc. This offers a wide range of opportunities to study, and if one is eager to catch opportunities, it can be a huge boost to one's career!
Whatever your path, though, starting as a developer only has three different outcomes:
Go to the dark side i.e. management

Become a team lead, then an architect, then a CEO. This means less and less coding, and more and more meetings.

Stay a developer forever, and never have a salary raise
In my younger years, I thought money was one of the most important target, because of an unconventional childhood. An "interesting" experience in management, associated with a trick of fate made me realize that it was not really the case.
And because I do like programming, I tried to stay close to the code as long as possible. Still, in France and Switzerland, if the salary goes up, one is expected to execute more "valuable" tasks e.g. software design, solution architecture, meetings, etc. Whether those tasks are more valuable or not is not the question. The market thinks that's the case - at least here, so they are.
Working in Switzerland was the solution I found to delay this move to other careers. But in the end, my last assignments were more about advising people on how to do things, than do them myself. I was not challenged enough. I grew bored. At the same time, I started to submit talks to conferences. At first, I had a talk at my local Java User Group, in Geneva. Thanks Xavier!
Afterwards, I submitted to the call for presentation of my first "international" conference. And I was accepted to the first edition of JavaLand in Germany! Later the same year, I also was accepted at JEEConf in Ukraine after a successful CfP. Thanks Mikalai! Also, the very same year, I had an opportunity to talk at JavaDays Kiev (now Devoxx Ukraine). Thanks Andrii.
And since then, I never stopped, broadening my perimeter bit by bit.
Attending conferences, meeting people, exchanging ideas…​ that was a real blast! But I did it on my own free time. I was barely supported by my company - even though my managers tried to help me as much as they could while working within their own constraints. Thanks Daniel, Markus and Jonas!
Some time ago, I realized that I could apply a basic engineering principle to my own life: when a piece of code is not optimal, it can be refactored. Likewise, instead of having a position that meant nothing to me, and using my free time to do things I liked, I could try to search for a job that would pay me to do that! Such as job is not easy to come by. Fortunately, one of my friend sent such a position my way, and it played well in the end. Thanks Philipp.
On the paper, it sounds ideal. However, Exoscale is a long way out out of my comfort zone: new business - the Cloud, new languages - Clojure and Go, new position - advocate. There's a lot to learn, and to do, in a short amount of time. Yet, I'm very eager to get the ball rolling, and see where it leads me.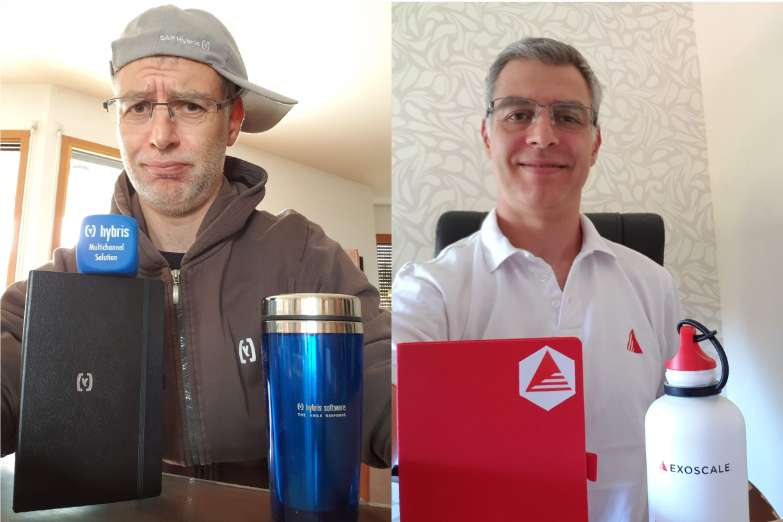 Left, I'm sad of leaving my buddies at hybris- SAP Hybris SAP CX; right, I'm so happy to join Exoscale! (Now, you know why I didn't consider a career in acting)
By the way, part of my new position is to actually talk at conferences: if you are interested in offering me a public speaking opportunity, please don't hesitate to ping me on Twitter.
| | |
| --- | --- |
| | I promise next week will be much less introspection and much more technical stuff. |