Here are the books I've written:
Integration Testing from the Trenches
Software development is a complex craft requiring many steps in its road to completion. In particular, achieving the best context-dependent ratio between cost and quality can only be achieved through an adequate testing strategy. "Integration Testing from the Trenches" covers through different areas of testing and integration tests in both Java & JavaEE ecosystems:
Definitions of relevant terms around testing and integration testing
Basic testing tools usable for testing
Build tools usage for integration testing, including recipes for Maven and Gradle
Mocks, stubs and fakes, in particular in regard to infrastructure resources such as databases, mail and FTP servers, web services
In-container testing for the Spring and Spring MVC applications
In-container testing for JavaEE application
This book is intended for software developers that want to go beyond just unit-testing and test the collaboration of their classes and modules in an efficient way. At some point in time, available tools were restricted to Jakarta Cactus for Struts. However, the thriving Open Source ecosystem can now provide everything we need to provide proper integration tests, as well as ways to use them with the greatest possible Return Over Investment.

Follow @itfromtrenches for updates.

The book is available in all electronic formats on LeanPub and in hardcopy on Amazon.
Learning Vaadin 7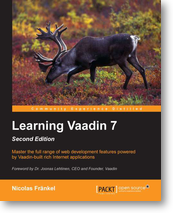 Vaadin is a new Java web framework for making applications look great and perform well, making your users happy. Vaadin promises to make your user interfaces attractive and usable while easing your development efforts and boosting your productivity. With this book in hand you will be able to utilize the full range of development and deployment features offered by Vaadin while thoroughly understanding the concepts.
Learning Vaadin 7 is a practical step-by-step tutorial to understanding, using, and mastering the art of RIA development with Vaadin. You will learn about the fundamental concepts that are the cornerstones of the framework, at the same time making progress on building your own web application. The book will also show you how to integrate Vaadin with other popular frameworks and how to run it on top of internal as well as externalized infrastructures.
This book will show you how to become a professional Vaadin developer by giving you a concrete foundation through diagrams, practical examples and ready-to-use source code. It will enable you to grasp all the notions behind Vaadin one step at a time: components, layouts, events, containers, and bindings. You will learn to build first-class web applications using best-of-breed technologies. You will find detailed information on how to integrate Vaadin's presentation layer on top of other widespread technologies, such as CDI, and JPA. Finally, the book will show you how to deploy on different infrastructures like GateIn and Jelastic.
Follow news on the book with @learnvaadin
The book is available for sale: get your own copy now!